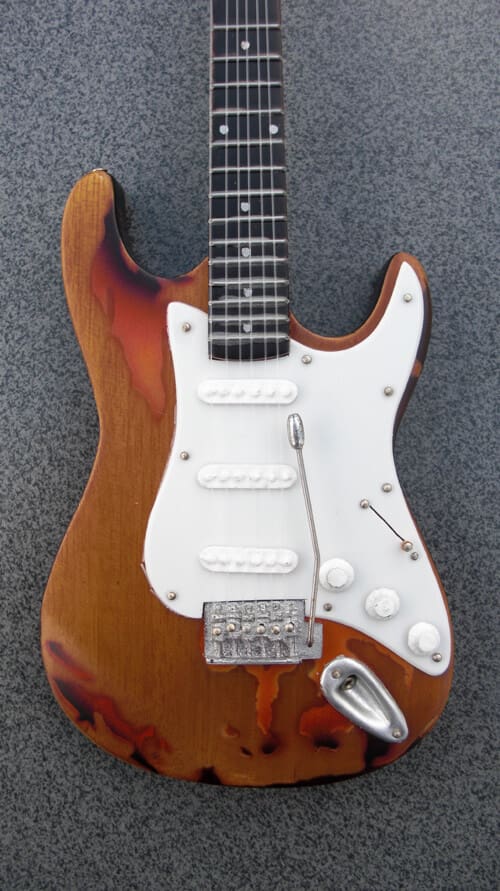 Born Liam Gallagher on March 2, 1948 in Donegal, Ireland, the oldest of two children. The nickname Rory came to be because he didn't like being named after a Saint such as Liam. His father worked near the Erne River at a hydro electric power plant. As the Gallagher family relocated to Cork, Rory would attend school in Cork.
He was raised in a home with no record player, no musical influence as most musicians. Growing up in Cork during the 1950s, Rory Gallagher discovered the sound of Elvis as well as other rock n rollers. With that sound of music in him, he would listen to American Forces radio and in short time discovered blues masters such as 'Muddy Waters'.
After hearing 'Muddy Waters' play a slide Telecaster, Rory decided that music was his calling. He went to the Cork library and read books on blues music and it's origin. As he read and learned more, he became addicted to the sounds of Big Billy Broonzy, Chuck Berry, Eddie Cochran and Lonnie Donnegan.
With an inexpensive guitar and self-taught, Rory became a talent show winner locally at the age of 12 years old. It seems now the Irishman quickly went from being a soft spoken man to a famous folk hero in his own country. In clothes of the working man and his long hair, he forged a musical revolution in Ireland that will always be alive and strong.
In 1964 Rory saw the 'Rolling Stones' live in London and this would an important moment in the direction of Rory's life. Not long after that concert, Rory purchased a 1961 Stratocaster for 100 pounds. It is rumored to be the first Stratocaster in Ireland. The instrument was stolen in 1963 but Rory did get it back, a little worn for the wear and he was never separated from his beloved Strat again until his death. The Sunburst Strat was his trademark, varnish worn and all.
At the age of 16, Rory joined the 'Fontana Showband', later called 'The Impact'. Rory's first appearance on television was with The Impact as they performed 'Slow Down' , a classic of rock and blues music. The group would perform again in Britain and Hamburg as well. The group split in 1965.
With 'The Impact' disbanded, and not being a part of any other band, Rory started a trio in 1966 that included Eric Kitteringham on bass and Norman Damery on drums. The trio was called 'Taste' and quickly gave Rory an experience with fame. The trio played throughout Ireland and Germany. They became residents in Belfast at Maritime Hotel R&B Club and in London at the Marquee Club.
In 1968, 'Taste' recorded two albums live and were captured on two studio albums as well. Because of his talent on the sax, during the reign of Taste that Rory was given the nickname "Yakety Sax". In 1969, 'Taste' self-titled album was released in England and picked up in the U.S. That gave Rory's the largest gig of his career as the group toured with the greats of Eric Clapton, Steve Winwood and others.
Their album 'Live At Isle of Wight' was recorded at the festival in 1970 shortly before the trio became at odds with management. In Belfast on New Years Eve 1970 they played their farewell show. Rory moved on to start a solo career. You can hear the pain Rory was experience from the band's bust up in 'At The Bottom'. Reluctant to discuss what brought 'Taste' to an end, a rare comment by Rory expressed his distaste for the financial side of the music business and his hesitation to trust others.
However, Rory would not stay down long. Always the musician and a natural leader of music, he went out on his own. For many artists, that solo move can be the end of their career, but not for Rory. His solo career would a productive time in 1971 as he released his debut on a self titled solo.
His following albums came quickly, each of them with original compositions. The songs on each album spoke to his audience earning classic status instantaneously. Every song on these albums were full of great vibrancy when he performed them life. Many were given hope and inspiration by Rory, while many shunned the Belfast, Rory always returned.
In 1972, Rory earned platinum status with his album "Live! In Europe", which became the second US album to hit the charts as well. Named "Musician of the Year" by the UK's Melody Maker magazine, beating out Eric Clapton and Jimmy Page both.
Rory always seemed to be surrounded by anecdotes, some planned and others not. Such at a in Europe, when he fell from the stage. While the audience thought he had done it on purpose, in fact, there was a large empty pit to the left of the stage that Rory didn't see. As he went running across the stage, he began to fall and caught himself by grabbing a metal bar. As Rory was hanging on for life and swinging like Tarzan, the crowd began to clap and cheer .
Once fans swarmed the stage in Nottingham, England and Rory's bodyguard, went about doing his job and cleared the stage. Mistakenly, one person he removed from the stage was his employer – Rory Gallagher. The body guard threw Rory and his guitar both from the stage!
The unassuming Gallagher would be transformed into a musical giant. Whether exuberantly unbounded using electric firepower or acoustic mastery, and acknowledged as 'the people's guitarist', Rory facility on guitar, mandolin, and, on occasion, sax, Rory's songwriting gifts gave perfect platform to his vocal flair and instrumental talent. His music was instinctive with a natural feeling of the blues that came from deep inside him.
His lurid exhibits of unbound magic on the fretboard, often rebuked by ballroom owners and local promoters, Rory gained lifelong fans that were hungry and ready for a new sort of freedom that he brought to the stage.
Show bands were simply a stepping stone for Rory. As he passed through that time, like Jimi Hendrix, Rory escaped the chitlin circuit and he escaped from being the sideman to being the main attraction in his own rights. His tireless energy and drive along with the dexterity of his fingertips as he played like he was on fire was a thrill to watch and listen to. His genius was sometime primitive and raw but he connected with his audiences pulling them into the fire with him.
The group U2 would benefit in the future from Rory and his brother/manager Donal's organized outdoor concert, the first ever in Ireland with an event of stadium rock. The work that Rory left behind was consistent, down-to-earth and honest. He was quoted many times as saying that "What I play is in mine all the time, not just something I turn on."
He stayed faithful and true to the sounds that inspired Rory and carried him through his carrier till his departure from this Earth. The legacy he left behind, while rugged, was pure of his feelings and his forms. While he was inspired by many, his blues were of his own, flavored with highlights of country, jazz and most of all rock music that could raise rooftops. He stayed true to maintaining what he felt was "a good vintage, ethic' sound in music.
Fans in rural Ireland would often benefit with tours from this musical journeyman during Christmas time. With 25 stateside appearances by 1990 and an appearance at a UK reading festival and jazz festival, Rory's decline in health due to drink and prescriptions was apparent. He was quoted as saying "The blues is bad for your health, it's as simple as that, it goes with the territory."
This writer could not find anything of value on Mr. Gallagher's personal life. It is apparent that with no marriage of record, no known long-term relationship as well as no children, he gave his personal life for his success in his music. So it seems that while he pulled crowds to him in 1000's to enjoy his hard work, he was a solo man in his personal life.
Playing till his very end of life, Rory's last few years were spent with an overlook of the Chelsea harbour from a hotel. In 1995, his life came to an end when he collapsed on stage with what was diagnosed as liver failure. A brief recovery was his from a liver transplant, only for his body to give way to infection. The music world lost this great musician in June of that year.
With 15,000 mourners, Rory was laid in Cork to rest eternity. As too often of many artist, his reputation is perhaps larger now than when he was alive. Along with his paint-worn Stratocaster and the consistency of his art that was always unvarnished itself, Rory will always be known for his image of a working man.
For anyone that every had the pleasure of experiencing Rory and his music, or for those that simply enjoyed his music from afar, his memory will live forever around the globe. To have attended one of his appearances, you would see the stag swarmed by those who felt they were one with Rory. Audiences often would enjoy a strum of his precious axe, giving each of his gigs another notch in music lovers memory.
A sculpture made of bronze stands in Cork today, commemorating Rory Gallagher. Belfast is home of plaque while Dublin is home to his Sunburst stratocaster mounted for viewing by the public and his followers. All through Ireland, Rory's memory is present. Fender markets his signature paint-worn axe with a model of tribute, that no doubt, will give any future musician that owns one, the feeling they are Rory, reincarnated.
Each year, Rory's memory is honored in Ireland with an annual festival and around the globe, concerts offering tribute are held. With his brother/manager Donal and nephew Daniel, Rory's story will never die. Forever more, his music will be here to inspire future generations as well older ones.