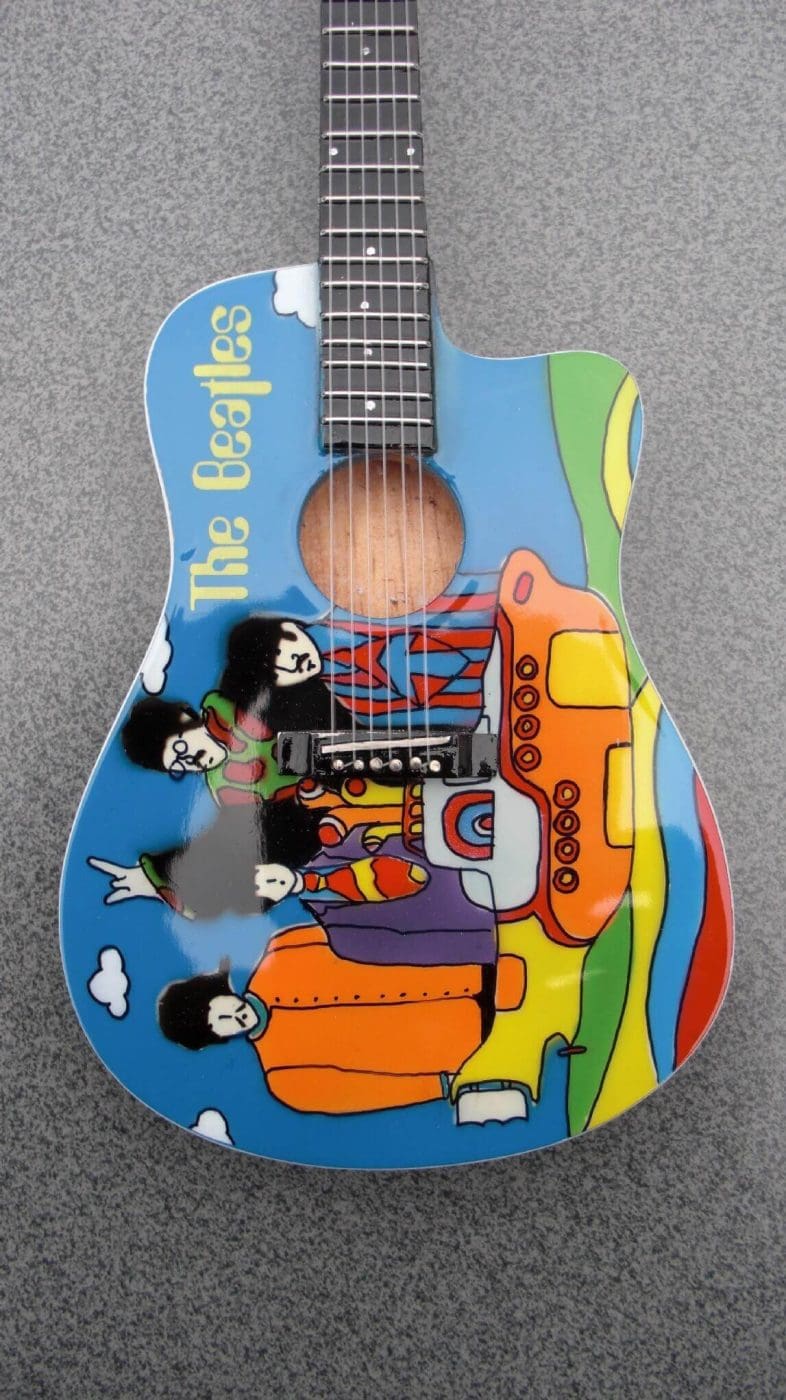 Any true music lover will have some knowledge of all genres of music, including Rock and Roll. Even if you aren't a true music lover, you most likely have heard of the band "The Beatles". Just how much do you know about one of the key members of the band, Sir Paul McCartney, though?
James Paul McCartney, born to James and Mary McCartney in Liverpool England on June 18th, 1942 and the older brother of Peter Michael McCartney. His father James was a salesman by day and a jazz musician by night . Paul was closest to his mother Mary, who was a midwife.
As an expectational student, Paul passed through primary and junior grades with ease and was accepted into the Liverpool Institute, an elite high school that required passing the 11-plus exam. Unknown to anyone at the time, it was at Liverpool Institute where Paul got his start as "the cute Beatle" when he met George Harrison.
Paul's mother lost her life to breast cancer when he was only 14 years old. This tragedy would prove to be what bonded him and John Lennon so close, as Mr. Lennon lost his mother at a young age as well when she was killed by a drunk driver. As Paul's father was left to raise the two boys, he often took them to local concerts where brass bands played. Influenced by this music, Paul began his musical career on the trumpet, however he later traded his trumpet for an acoustic guitar.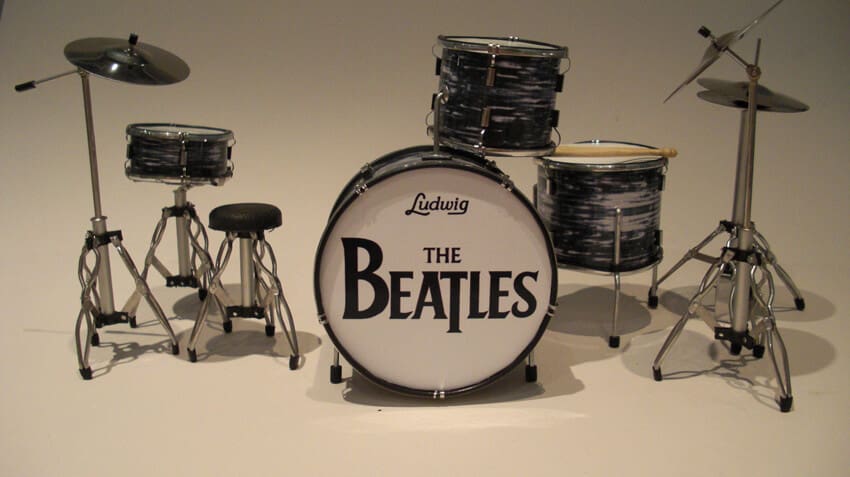 A combination of blues and folk music, Skiffle was the music that gave Paul his interest in playing the acoustic guitar. While Skiffle music also included odd objects to create the sound such as a comb, musical saw and a washboard, years later, we can see where this type of music ,that also included the piano, was an influence on the star that would later be knighted as Sir Paul.
Being left handed, young Paul McCartney had difficulty learning the acoustic guitar, which could have been a discouragement and not led him to the greatness we know of Paul McCartney today had it not been for a poster he saw. Jimi Hendrix became an inspiration to Paul when he noticed this left handed star played holding his guitar opposite of the traditional way.
Another Beatle that got his start in music by way of Skittle music was John Lennon with his own band that was formed while at Quarry Bank Grammer School, hence the band's name, The Quarrymen. In 1957, at the age of 15, Mr. McCartney was introduced to Mr. Lennon by a mutual acquaintance, Ivan Vaughan.
The Quarrymen were playing at a garden fete for St. Peters Church where Mr. Vaughan was an occasional guest player for the band. During set up for the evening concert session, Sir Paul assisted the band with tuning a guitar and sang a variety of songs that included a medley of Little Richard's tunes along with some Eddie Cochran and Gene Vincent tunes.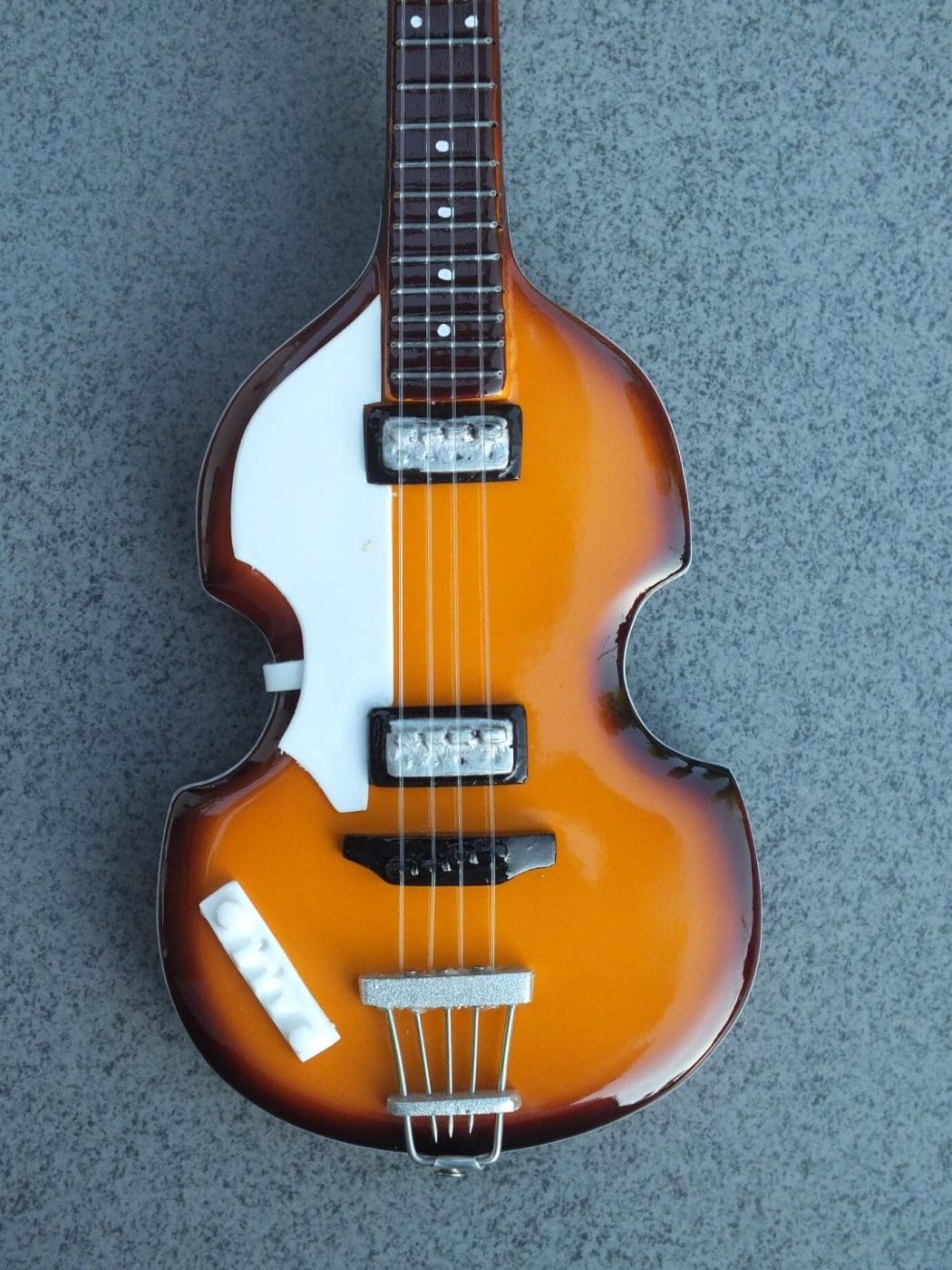 Cost to attend the evening session was two shillings. During this session a member of the audience, Bob Molyneux used a portable reel-to-reel player and recorded part of the performance. A short time later, Paul while cycling, Pete Shotton who had heard the recording and with the request of John Lennon and other members of The Quarrymen, requested Paul McCartney's joining them.
The Quarrymen's manager, Nigel Whalley, booked the group at Liverpool's Lee Park Golf Club. A member of the golf club, Alan Sytner, owned a club, the Cavern, and booked the band several times as "Skiffle Sessions". By August 1957, Rod Davis replaced Pete Shotton who left the band as school commitments did not give him the time to devote to the band has he wanted.
On Friday, October 18 1957, Mr. McCartney made his debut in Liverpool at The New Clubmoor Hall. The band was dressed in matching long-sleeved cowboy shirts with black string ties and trousers by their promoter, Charlie McBain.
On lead guitar, Paul bungled a solo performance that embarrassed him and the band. He saved himself during a break by playing a song for John that he had just finished, "I've Lost My Little Girl". This was the inspiration that moved John to start writing as well.
While Paul's father wasn't the fondest of his son's new friends, as he felt John Lennon was a troublesome person, he was very encouraging of the band his son was a member of now, The Quarrymen. In short time, Paul McCartney's living room became the band's practice location.
The band wouldn't keep the name The Quarrymen for long. They began to search for a new name, which went through several such as Johnny and The Moondogs, Long John and The Beatles, The Silver Beatles. Finally, they came to decide on the name that would become famous and an important part of Rock and Roll history, "The Beatles".
Rock and Roll music lovers have often wondered not so much about where the name "The Beatles" came from, but how the unique spelling came about. When asked, John Lennon would have two different stories to share. One version was the name was a combination of 'beetles' that would play off Buddy Holly and "The Crickets' and the word 'beat'.
The other version, which was claimed to have been a joke, was the name "The Beatles" was derived from 'beat-less'. Going by their success from the beginning, continuing today and into the unforeseeable future, most certainly, the first version would be more accurate.
As any band starting out, The Beatles were no different in having changes among the band members. In time George Harrison joined the band on guitar. Paul McCartney switched from guitar to bass which allowed him to fill the spot emptied by the passing of band member Stuart Sutcliffe. Shortly after, Pete Best, who will be always be infamous as the 'fifth Beatle', was asked to leave the band. Ringo Starr then joined the band and the history of Rock and Roll music was set in motion.
There are bands, artists and musicians that will last in the music industry in general for a few years as they flex with the change of music's genre and fads. Most won't last more than a decade even with the flexibility though. While this statement holds true to The Beatles as well, it is not so of Sir Paul McCartney.
His career has spread over three decades in one genre of music, Rock and Roll. From his early days as a member of 'The Quarrymen' revolving into the group "The Beatles" and then into a solo career that has broke charts and records all on his own as well.
In the mid-1960's The Radio Times asked 17 year old Jane Asher to attend a concert The Beatles were performing. Afterward, she was invited to go to their hotel. She spent the evening with Paul who became entranced by her. He was later heard to say that he realized that was the girl for him. He asked her to marry him on Christmas Day, 1967 and she accepted, becoming the first Mrs. Paul McCartney. His affection and love for Jane were expressed in songs he wrote such as "I'm Looking Through You" and "And I Love Her."
"The Beatles" last released album was "Abbey Road" During the release of "Abbey Road" in 1969, rumors were ignited and went world wide as quick as a wild fire that Paul McCartney had died. Announced in two college newspapers then read on air by a Detroit radio jock, it was feared by many that the world had lost a young musical geniuses.
Searching every Beatle song for clues through the lyrics, Beatles fans everywhere were want to find out the truth if Paul McCartney was indeed dead or was this simply a hoax. No one knows for sure where the "Paul is Dead" rumor and that he had been dead for three years began. In the song 'Glass Onion', John Lennon's words "wellhere's another clue for you all, the walrus is Paul" would fuel the rumors even more, based on the Greek symbol for death is the Walrus.
One story that has made the rounds states that Paul left the recording studio following a fight with the group. Angrily, he jumped into his car, speeding off. A car accident was reported that coincided with that that fight and a British newspaper published a story that from that accident, left a body that could not be identified.
Again, John Lennon sang words from the song "In A Day In The Life" that fueled the rumors even more that fans heard between the lines of " … nobody was really sure if he was from the house of God" in which the word "God" sounds like "Paul" in the recording.
As the rumors were growing larger and larger, Paul McCartney made a public appearance n October of 1969. At this time, he made the announcement that the The Beatles were disbanding. John Lennon, during a interview with The Rolling Stone Magazine in 1970, was asked if there was any meaning behind the hidden clues. Mr. Lennon quickly stated "No. That was bull. The whole thing was made up."
Every member of the The Beatles were jokers and they enjoyed attention that the "Paul is dead" rumor brought them. Some think now, years later, they were having fun at the expense of their fans. Then there are still some hard core believers that Paul McCartney is dead.
However, the truth is that Paul McCartney didn't let time lapse between the ending of a musical great, "The Beatles", before moving right on with a solo career, and perhaps that is one key to his success of over 30 years. Within two weeks, his first solo release in 1971 was accepted by fans with warmth, giving proof that he was alive and well.
On his next solo album, 'Ram', Paul's wife, Linda McCartney, joined him and they toured together as band members and husband and wife. From that album, Paul formed a band that has earned it's own place in Rock and Roll history, "Wings" with his wife, drummer Denny Seiwell and Moody Blues guitarist, Denny Laine.
"Wings" began touring throughout Europe in 1972. Playing at Universites unannounced, much less invited, Paul, Linda and their children went from town to town throughout London in a van. They would stop at random and ask citizens if there was a university in town. This unexpected, unplanned tour took the band to small venues and a variety of British University Auditoriums.
Their firs stop at Ashy-de-la-Zouch, they were told there was no University in town, however their next stop was Nottingham and the student union hall hosted the unannounced, uninvited band to play live at the cost of 50p. The money collected would later be distributed between band members, Paul, Linda, Denny Laine, Denny Seiwell and Henry McCullough in the back of the van.
"Wings" flew on it's on wings with a tour in 1972 through the United Kingdom. They had no promoter, no publicity and venues were booked at the last minute by calling local hotels. The touring bug had bit Paul McCartney again and "Wings" would being producing albums and touring up through 1979.
In 1980 the group had a tour booked in Japan, but Paul McCartney's arrest on marijuana would end the tour and subsequently, the group as well. Not to be kept down and out of Rock and Roll music, Paul was going again in the 80's, recording the album "McCartney II" in which he played every instrument himself.
On December 9, 1980, Paul's longtime friend and Beatles band mate, John Lennon was gunned down. This changed Paul McCartney and kept him from performing live again till 1985. Later he admitted his fear that he could be next.
In 1985, Paul appeared at Live Aid. In 1989, he let his touring bug start up again and gave his first live concert for Fan Club members. From there, he never stopped and produced two live albums om the early 90's as well as ventured into the classical music genre in the 90's.
On March 11, 1997, Paul McCartney, was knighted by Queen Elizabeth II for his "services to music." In a traditional ceremony, the 54-year-old lad from Liverpool became Sir Paul, Reminiscent of the 1960s when fans followed The Beatles everywhere, they gathered outside The Palace crying and screaming as Paul McCartney's limousine whisked through The Palace Gates.
Paul dedicated his knighthood to his former fellow Beatles members, George Harrison, John Lennon and Ringo Starr as well as the Citizens of the Northwestern Liverpool. After learning of Paul's knighthood, his former band members referred to him as "Your Holiness".
Sir Paul has gave world tours through 2002 to 2005 proving that he is the prolific musician on earth. He has performed with the Rock Band, Linkin at the Grammy Awards and performed an all-time favorite of many, "Yesterday" in honour of Ms. Coretta Scott King. He has performed with JayZ as well, mixing the forever sound of Paul McCartney with JayZ's rap sound.
Playing bass was always seen to be a bore for most musicians, however, Sir Paul was never afraid to go into the new or unknown. While the music prodigy, Macca, is credited to changing how music fans look and listen to bass players, it is Paul that you hear in the back ground of every song "The Beatles' produced, on the bass.
George Harrison was known for the sweet sound of his solos, all of which were accompanied by Paul on the bass. In the song "Something", George was not pleased with Paul's bass lines, however, the song became a love song that has been noted as 'one of the greatest love songs ever'. The late Frank Sinatra even validated that claim.
From the slightest to the largest part, Paul's contribution to The Beatle's songs with his skill and talent on bass are numerous. Such as the son "I Want You" is first filled with the unique sound of John's voice then George's solo's, it is in the end that Paul's bass breaks out and takes over the ending.
One of the most famous still today is the song "Come Together" in which Ringo's drum is matched with Paul's bass, very similar to the song "Dear Prudence" In these two songs, as in all The Beatles's music, Paul's unique sound gave the band a sound that was before it's time. While he uses the melody to start the ascending move of an awesome build up, those of us listening flow right along with him.
From the day John and Paul joined forces, till the end of The Beatles, the music , nor them, never stopped. Together, the two men became "Lennon & McCartney" and will forever remain to be a renowned song writing duo of the twentieth century. While they may not have wrote anything that became of great value separately, the two collaborated together and became established in the music world forever.
Ask anybody who is the best band in the history of music is and most likely, you will get the answer, The Beatles. Numerous bands have covered songs from The Beatles and were successful. The Beatles presence is still strong in today's music, and 'the cute Beatle', Sir Paul McCartney, who turned 70 years young June 18th, 2012, does not seem to be slowing down much less disappearing any time in the foreseeable future.