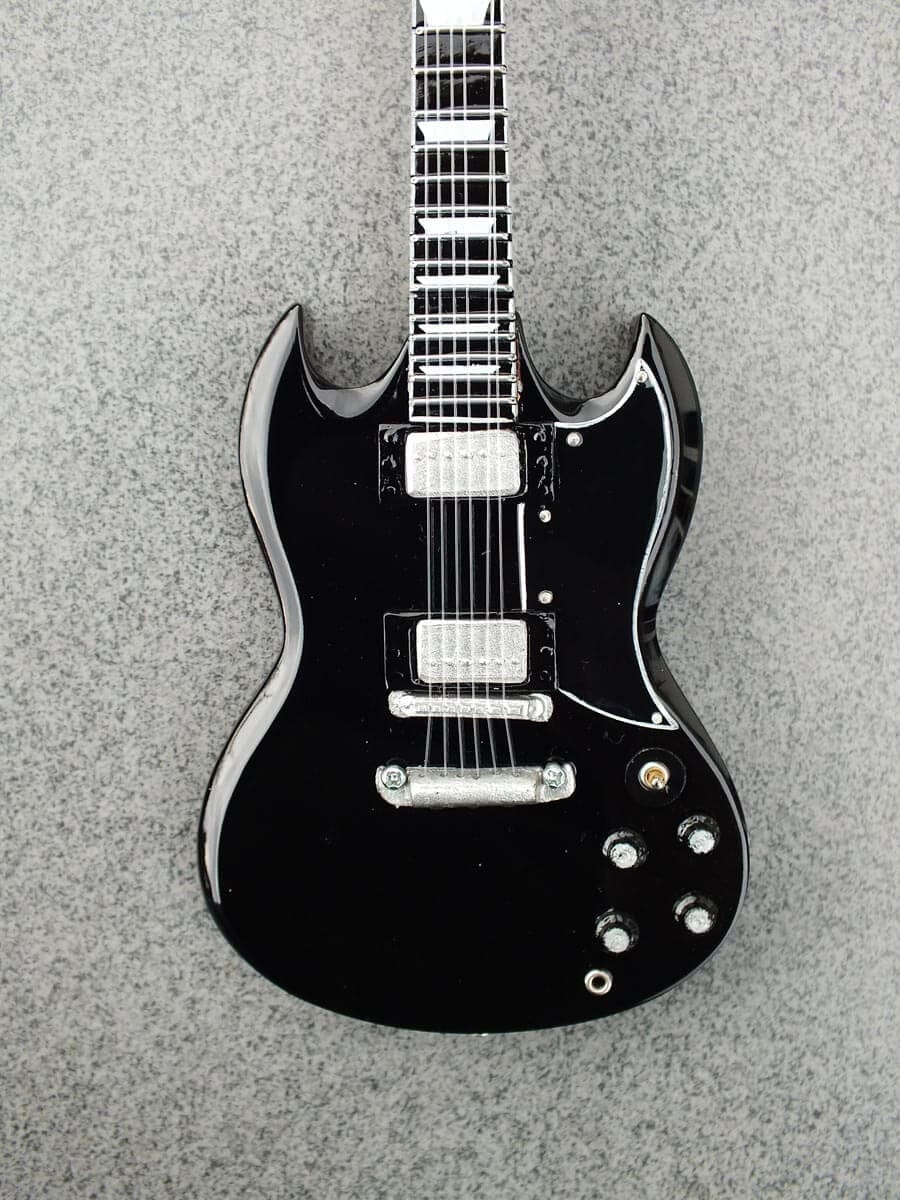 Only 5 foot 2 inches tall, in 2003, as a member of AC/DC rock band, Angus Young was inducted into the Rock and Roll Hall of Fame. As the lead guitarist and songwriter for AC/D, a Gibson SG, in various forms and styles, is the only axe Mr. Young plays. While his antics onstage, include jumping, running and spasms on the floor, are Angus Young signature performance that his is famous for, there are some things you may not know about this awesome axe playing musician.
There aren't many rock-n-roll lovers that will argue, Angus Young is one of the most entertaining performers of rock genre. Whether he's dressed in his school boy outfit or on stage shirtless, his bouncing head and his version of Chuck Barry's duck walk across the stage is the persona that AC/DC is reckoned with. An awesome rock guitarist that is not as appreciated and understood as he should be.
Angus was the youngest of eight children, born on March 31, 1955, to William and Margaret Young, in Glascow, Scotland. Angus says his interest in music started when he was five or six years old and listening to Little Richard. As time would tell, Angus comes from a musical family, starting with his older brother Alex.
In the early 1960s as the British Invasion was coming on strong to the rock-n-roll world, the Young family moved to Australia. Alex stayed behind in Scotland and formed the band, Grapefruit.
Another older brother, George, was a member of another group, The Easybeats, with a one-hit wonder, "Friday On My Mind". With these two older brothers having success in the field of music, Angus and another older brother, Malcolm, would become influenced, thus eventually, the famous group AC/DC would be formed in time.
Youngest sibling of the brood, Angus played around with Malcolm's guitars and banjos that he had restrung as a six string instrument. In time, his mother bought Angus an acoustic guitar of his own. Angus attempted guitar lessons some by the age of eleven, however, his preference was to learn on his own, and that he did.
The first Gibson SG owned by the young musician he purchased from a second-hand music shop. He has been quoted as saying that he played that instrument so much, it got wood rot from his sweat. In time, the Gibson SG axe would be signature of Angus Young.
Not the most enthusiastic and scholarly student, Angus only academic interest was one that gave him the freedom to express himself, and that was art class. By the time he reached 15, he left school and gained employment as printer for Ribald, a soft porn magazine. Still, this was not his natural calling as he had ambitions to be elsewhere doing other things.
The year before he left school, Angus would play at school dances, jam with his friends and practice guitar steadily. During this time, his brother Malcolm was forming a band of his own and Angus was taking off with his own talent playing for other bands such as Kantackee and Tantum. It was while playing with Tantum, that Angus' stage persona was born. As he walked across the stage he tripped. Making it appear as a death scene and screaming hell from the guitar, that was the only clap the group would get that night.
While his antics on stage were at first a pure clumsy accident, it has become a trademark forever to be Angus Young. The body language and movement of Angus young seem natural. From his body spasms on the floor of a stage to the duck walk he copied from an idol, Chuck Berry, they are attention grabbing and worked great to settle down a bar room of loud, inebriated club goers. The floor spasm and duck walk are now signature of Angus Young.
Going forward with plans the brothers had been talking about for years, Malcolm and Angus formed the band AC/DC in 1973. The name AC/DC has been told to come from their sister's sewing machine and another story is that their older brother George's wife suggested the name. Either way, the name AC/DC gave off the impression of electricity with danger. The group decided that name meant business was the perfect for a band that meant business.
Malcolm Young wanted each band member to have a "look", something that made each one stand out and the group stand out as a whole. Angus tried a number of costumes including a gorilla, Spiderman, Superman and Zorron. Some say he ended up with his school boy uniform by suggestion of his sister. The cap, jacket, shorts, tie and white shirt have become the identity of Angus Young of AC/DC.
Plans for the group were for Malcom to be lead guitar and Angus to be "second" lead guitar. However, it didn't take long for Malcolm to recognize that Angus' image on stage was giving the band the originality the group sought. Malcolm decided that he would play rhythm guitar leaving Angus Young to be the band's lead guitarist.
Angus and Malcolm Young stayed true to their raw, simple three-cord music, turning a deaf ear to the trends of the 70's such as disco, prog rock and others. Yet, their ticket sales climbed as did their album sales.
While the group stayed true to their originality, Angus implemented an "effect" into his signal with a wireless unit in 1977. This wireless unit was used as a booster to "fatten up" the already awesome tone of Angus Young. From that time on, and still today, it is has been present in the studio on several albums for all lead guitar tracks and selected rhythm guitar tracks.
During the 80's while most rock guitarists copied the kamikaze style of Eddie Van Halen Angus Young stayed with his own style which has been an influence on many other rock bands such as Buckcherry, Guns N' Roses, Jackyl and Nashville Pussy.
Some rock music lovers will criticize AC/DC as being formulated and too simple with their music. However, those comments are lost when it's remembered that not only was the group AC/DC inducted into the Rock and Roll Hall of Fame in 2003, but 2006 Angus Young was award by Kerrang! Magazine's Legend Award and in 2012, American Guitar has named Mr. Young 'Best Australian Guitarists of All Time'.
Not only will Angus Young leave rock music his awesome power on the axe and on the stage, he has partnered with Gibson Guitar with a pickup he designed. Known as the 'Angus Young Signature Humbcker', it is in the bridge position with the 'lightning bolt' inlay of the neck. Guitarist of the future will make great music themselves with this design for many generations to come.
Angus Young keeps his private life just that, private. While it is known that his married to Ellen and they live in Kangaroo Point in Sydney Australia. It is well known that Angus, while a smoker, does not drink. While considered short at 5 foot 2, he has been rated as #1 of the greatest short dudes of all times, out ranking Napoleon Bonaparte, Martin Scorsese and Yoda. While on stage, Angus Young is all out there with his music, in private, off stage, he is known to be quiet and gentle.
The power that Angus Young delivers from his five-foot two frame, has audiences on their feet screaming along with him as he sets the fireball on stage with one of the most well known rock-n-roll bands, AC/CD. In the view of many rock enthusiasts, Angus Young is an under-rated guitarist.
Mr. Young loves rock-n-roll music and his hardworking performances proves just that. He has been quoted as saying "I don't like to play above or below people's heads. Basically, I just like to get up in front of a crowd and rip it up." And rip it up he does!
AC/DC has revolved around Angus Young's musical ability as a lead guitarist, no doubt. Mr. Angus gives his audience what they pay for with his honest, pure and unadulterated rock-n-roll music. The talent that pours from Angus Young and his axe will forever be impressive upon the Rock-n-Roll genre. Aungus Young has left an influence on future and present guitar players as any music genre' can tell as his style is copied by air guitarists around the globe.