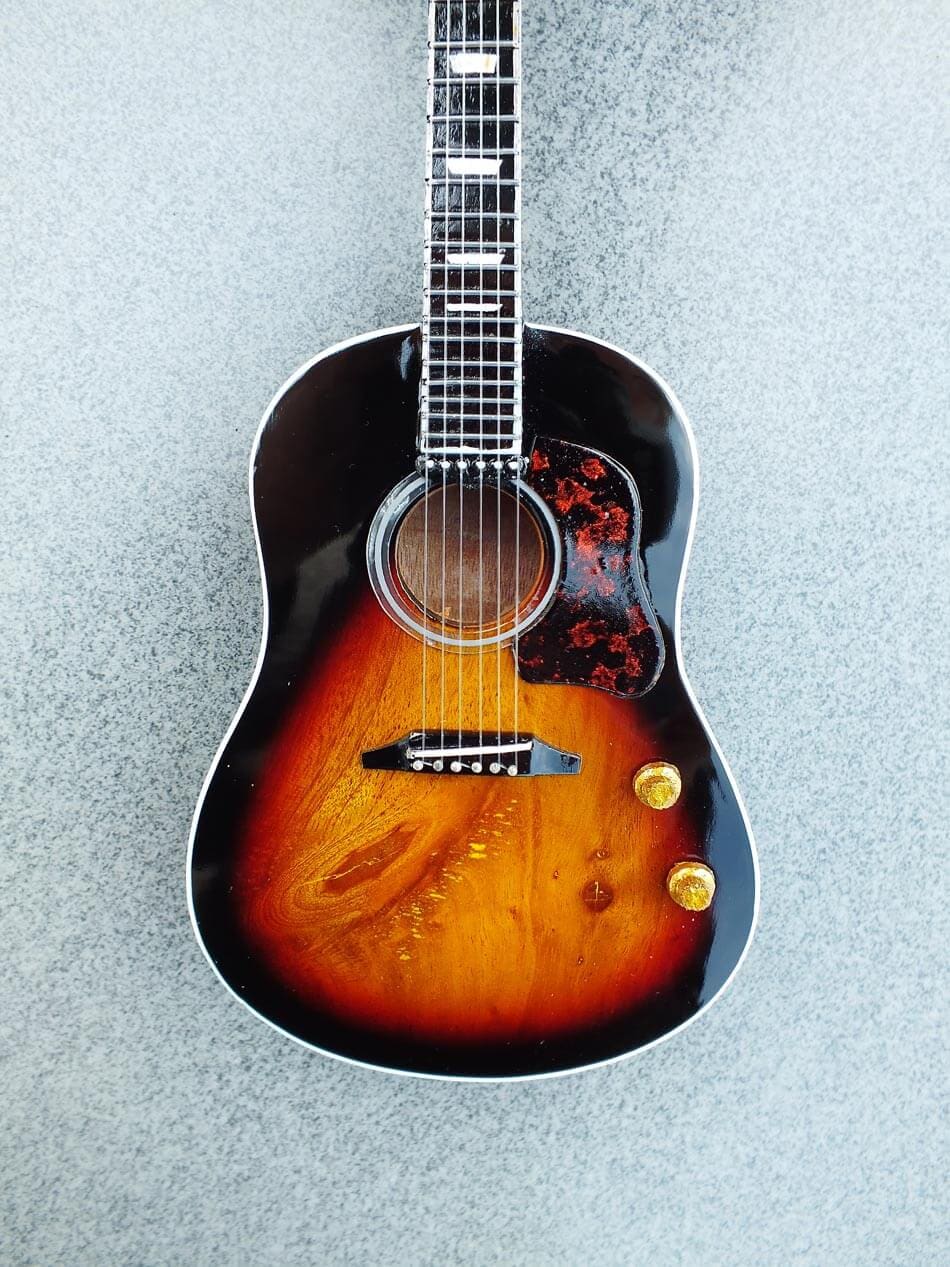 The youngest of 3 sons for Harold and Louise Harrison, George Harrison was born February 25, 1943 in Liverpool, England. His interest in music began early in his childhood. At the age of 13 he bought his first musical instrument, an acoustic guitar and devoted his time and energy to learning this tool on his own.
Mr. Harrison attended Liverpool Institute, as did Paul McCartney, who rode the same bus to school. While Paul was older, they became fast friends as both had a an interest in music with aspirations to be a professional guitarists. Each found their start into a music career at this time, however different in different directions to begin with.
Harrison became a member of the short-lived group "The Rebels" with his older brother Pete and a friend Arthur Kelly. As "The Rebels" disbanded, his fellow schoolmate, Paul McCartney, invited George to jam with another group, 'The Quarrymen", which was founded by another schoolmate three years older, John Lennon. This is the band that would eventually become the Beatles, after many changes and events though.
Even though John Lennon was not on board with letting a young kid join the band, young George hung out around them constantly and imitated Lennon's appearance and mannerisms. In time, the young musician's skill along with his persistence, won Lennon's approval. In 1958, George Harrison became lead guitarist for 'The Quarrymen'.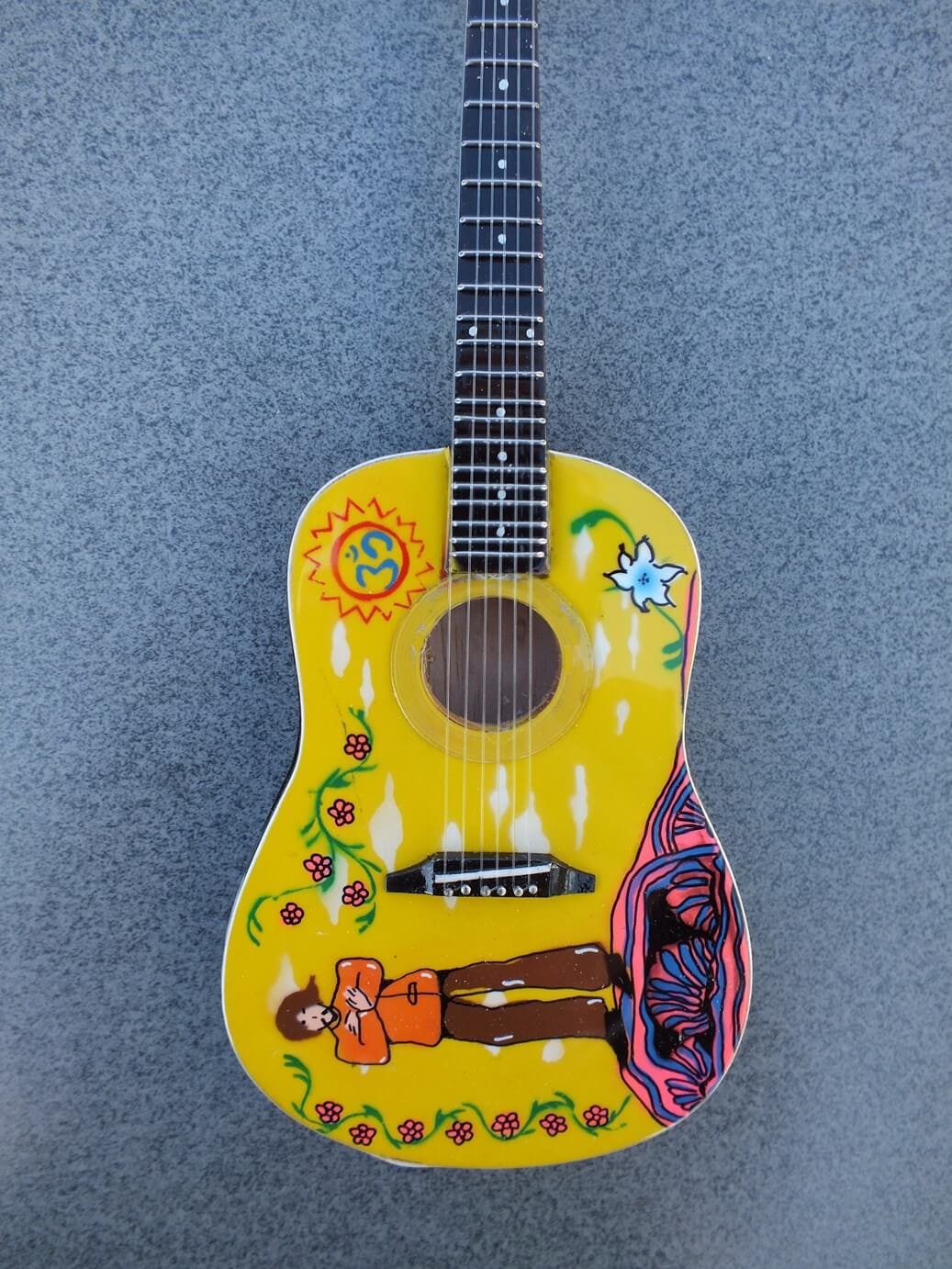 'The Quarrymen' were having personnel issues and at times, it wasn't sure if the band would stay together or not. George was determined to be a part of a band regardless and picked up an extra gig playing guitar for 'The Les Stewart Quartet'. Ironically, it was 'the Les Steward Quartet' that fell apart in August 1959 and the remaining members joined 'The Quarrymen'. This combination of bands became the house band for 'The Casbah Club'.
Prior to adding Stuart Sutcliffe as bassist in 1960, the line up of Lennon, McCartney and Harrison performed as 'Johnny and The Moondogs' for a short period of time.It was Sutcliff that renamed the group 'The Beatals, a name whose spelling would change several times as this group found their place in rock-n-roll.
In quick fashion, the group's name went through many changes starting with 'The Beatals', then ' The Silver Beetles', 'The Silver Beats' before finally, in August of 1960, settling on the name that is now one with the history of rock-n-roll, 'The Beatles' As 'The Beatles", the group made a trip to Hamburg whre their musical style and reputation would take footing bfore the youngest member, George Harrison, was deported back to England as he was underage.
Band manager, Brian Epstein came into the picture during their second visit to Germany and many more visits to follow with appearances at 'The Cavern Club'. With Mr.Esptein at the helm now, there would be no stopping 'The Beatles' from reaching the huge success that has made history over and over. Quickly becoming an unprecedented pop culture phenomenon, the band's popularity exploded after bringing drummer Ringo Starr on board in 1962.
With each new release from 'The Beatles', few of Harrison's works would be included which only aggravated the young musician and eventually lead to a strong resentment by him toward the two older, musical geniuses of Lennon and McCartney. As such, where Paul was known as the 'Cute Beatle', George would become known as 'The Quiet Beatle' by fans around the world.
With a solo debut of 'All Things Must Pass', George finally was able to emerge from the shadows of his fellow band mates and show himself to be the songwriter he was all along. His compositions of 'Something' and 'While My Guitar Gently Weeps' are other fine examples that he was as capable of producing music as awesome as Lennon and McCartney.
As a a gifted guitarist, George Harrison was credited for bringing Eastern religion and music influences not only to 'The Beatles' but to the whole Sixties Generation of young people. He publicly expressed his devotion to Hinduism in 1971 at a Concert for Bangladesh, the first massive charity event for rock-and-roll. Just as Lennon and McCartney did, Harrison would become a great seeker of his generation. However, he would search inside himself , not outward as his fellow band mates did.
Harrison's most momentous contribution to a single Beatles album 'Revolver" was three songs, 'I Want To Tell You', 'Love You To' and 'Taxman'. Event though Harrison would be out-showcased by Lennon and McCartney, he has the credit of many classics but it was 'Here Comes the Sun' and 'Something' from the band's 1969 'Abbey Road' that earned A-side placement and topped the American charts.
During Harrison's early rock-and-roll influences he developed a poetic style that was wide-ranging. He was a part of the electric guitar's introduction in the late sixties, bringing it to prominence in the world of rock-and-roll, just as he did with the 12-string Rickenbacker guitar. The distinctive sound of this axe is one of it's own that you hear in 'A Hard Day's Night'.
Harrison introduced the electric guitar, Rickenbacker to The Byrds and they introduced him to the Sitar, a guitar-like instrument from ancient Iran. Learning this instrument with Ravi Shankar, the famous Indian composer, Harrison brought the Sitar to several of the Beatles songs such as "Sargent Pepper's Lonely Hearts Club Band' and as a center of the music to 'Within You, Without You'. This was a time where Harrison declared his independence and while the band was not performing live in 1966, Harrison grew even more as a musician.
In 1969 Harrison quit the group in the midst of their filming 'The Beatles' only to return a few days later after negotiating some changes. Harrison is said to be the first one to split when The Beatles disbanded in 1970.
Ravi Shankar would become a close friend for life of George's as he deepened his believe and life style under Hinduism. While filming 'Hard Days Night' in 1966, George met Pattie Boyd and there married after The Beatles disbanded. Purchasing the private estate in Henley-on-Thames in 1969 and naming Friar Park where George would pull more creativity out, bringing the music world the sound track 'Wonderwall Music'. This was to be the first former Beatles solo effort, mixing Rock with traditional Indian music, not the biggest winner among rock fans, much less those who loved The Beatles.
Experiencing the partnering with Bernie Krause, the composer, an exercise if Moog synthesizer noodling for 'Electronic Music' in 1969. Harrison then came back with a number one album consisting of three-records with his own original music that Harrison had originally wrote for The Beatles. Produced by Phil Spector and featuring guests such as Dave Mason and Eric Clapton, this would be Harrison's masterwork.
In 1971 Harrison and Ravi Shankhar would pull together a massive benefit for refuges of Bangladesh. Bob Dylan would give a historic performance along with Ringo Starr and Eric Clapton. A documentary and three record album would result from this concert and Harrison would gain another hit, "Bangla Desh" Millions were earned for specified beneficiaries although that money was held as the IRS audited Apple Records.
From this masterwork, Harrison's biggest solo hit, 'My Sweet Lord' was produced. A painfully tender mental imagery that expressed Harrison's religious beliefs, was later taken to court in battle with a the hit "He's So Fine' by the Chiffons. It was proved in court that Harrison had plagiarized the song unknowingly. Coming back in 1976 though, Harrison releases another hit "This Song' as a joke toward the lawsuit. This recoding would feature Eric Idle of Monty Python on vocals.
George Harrison and Pattie Boyd would divorce in 1977 and she would later marry Eric Clapton, whom she would later marry. Things were to only get w0rse for Harrison on a tour in the United States, when his voice faltered and among the ugly backlash from that, Harrison faded from the major spotlight and was never again tour the United States. Even though his voice seem to have failed him and his marriage was over, he kept on working his music only to gain unspectacular results commercially and critically.
The years between 1975 and 1979 were not the best for Harrison professionally. To critics, although he has shown to be talented, his work was that a journeyman musician would produce. His interest in Formula One racing grew and he found new love with Olivia Arias. They brought one child to this union, a son named Dhani, and were married the rest of Harrison's life.
The year of 1979 became busy for Mr. Harrison after publishing a memoir, 'I, Me, Mine' as well as he was Executive Producer of the Monty Python films. The parent to his previous album, 'Dark Horse', Warner Brothers, demanded he replace four of the songs to the album 'Somewhere In England'.
Even though Harrison and Lennon had never reconciled after the group disbanded and Harrison had no mention of Lennon in his memoirs, after the assassination of John Lennon, Harrison was quoted as saying "To rob life is the ultimate robbery in life.", a very reserved statement. In honor of Lennon, the song that Harrison had originally penned about Ringo Starr, 'All Those Years Ago', he reframed it and
made it a part of the reworked album 'Somewhere In England'. The song hit number two on the charts.
In 1982 after 'Gone Troppo' bombed out, Harrison retreated from the stage and studio for years. In 1987 though, he came back in a vengeance with 'Cloud Nine' that shows George covered in mirror shades. From that album, 'Got My Mind Set On You' went number one and the album went platinum.
Harrison found brief success in the 1980s when he was joined by Bob Dylan, Jeff Lynne, Roy Orbison and Tom Petty to create the 'The Traveling Wilburys'. Two albums were produced by what is considered to be a rock super group with the last word on rock-and-roll. Each member of this group careers were given a renewal and along with Eric Clapton, George Harrison toured Japan in 1991. The album 'Live In Japan' became a hit from that tour.
After that tour, again, Harrison went into retreat till 1995. The three remaining Beatles, Harrison, McCartney and Starr, produced two 'new' Beatles songs along with the documentary 'The Beatles Anthology'. At Linda McCartney's funeral, the three remaining Beatles appeared in public together, the first time over 30 years.
Harrison announced in 1998 that he had undergone treatment for throat cancer and in 1999, a stranger with known mental issues, broke in to Friar Park estate and stabbed Harrison. Harrison's wife was able to fight off the attacker with a fireplace poker, from which the attacker finally collapsed and Harrison's life was spared.
In 2001 on November 29th, the world of rock-and-roll lost another great musician, as George Harrison's body gave into the cancer that he had quietly fought for so long. McCartney and Starr collaborated on 'For You Blue' and performed the song on On the first anniversary of Harrison's death at a Concert for George. Harrison's own song, "Here Comes The Sun', was performed by Eric Clapton and Jeff Lynne as well as many of Harrison's classics were played by several artists in his honor.
Harrison was inducted into the Rock-and-Roll hall of fame in 2004. The Harrison Family released a statement of Harrison's legacy that couldn't describe this brilliant musician any better: "He left this world as he lived in it, conscious of God, fearless of death and at peace, surrounded by family and friends. He often said, 'Everything else can wait but the search for God cannot wait, and love one another.'"